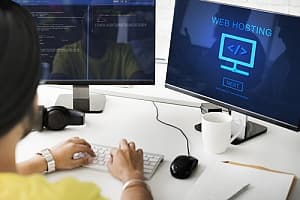 TCB offers web hosting for organizations looking to keep their website running at optimal speeds. Our hosting services provide cost-effective, 24/7 support to ensure your company's website does not crash overnight. We also help store and manage all of the content that is present on your website while making sure it does not lower your website's performance.
How Our Web Hosting Services Help Organizations
TCB understands the importance of maintaining a fast, secure, and reliable website, and will work tirelessly to meet these standards. If your organization requires a managed hosting package to make its website live, or simply requires an upgrade from its current package, let us handle all of your hosting needs.
Enhance Website Speed And Security
Hosting a website through a third party allows it to receive extra support that your employees may be unable to provide. All of our websites utilize dedicated, cloud-based servers that grant access to your data whenever and wherever you need it. In addition, we offer advanced security measures such as SSL certificates, firewalls, and DDoS protection. By choosing to host your website through TCB, your organization will receive peace of mind knowing its website will always operate at its maximum capability.
Manage Website Content Easier
Our hosting services enable your organization the ability to easily make changes to your website and any content and/or data associated with it. Whether you choose to update the content or let TCB perform the updates, we will provide assistance to ensure the right changes are being made. Through TCB's hosting options, you can opt to use WordPress hosting or our custom website builder to manage your content. These platforms allow for changes to be made and tracked easily, and grant specific employees the ability to update the site when necessary.
Speak With TCB Inc. For More Information
If your organization is interested in improving its website speed and accessibility, reach out to TCB. Our professionals will manage your website round-the-clock to ensure it does not break and/or suffer a breach. In addition, we will notify your organization the minute your website is compromised and shift all of our resources toward the issue until it is solved. To learn more about our hosting options, or to get started, contact TCB by phone at 703.204.2958 or request a consultation with one of our IT experts.