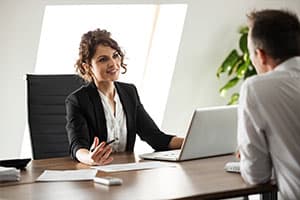 Protect the sensitive data your business houses with forward-thinking and modern cybersecurity protocols. Our team of experts specializes in addressing the high-level needs of cloud-service providers and ensuring their security protocols are broad and up to the latest standards.
If you want to keep up in today's ever-advancing technical world, organizations will need to adopt ever-increasing measures to prevent cyber attacks. Our cybersecurity consulting team will assist your teams with their extensive knowledge of cybersecurity risks, remediation procedures, and compliance efforts.
Benefits Of Cybersecurity Consulting
Data breaches are currently at an all-time high. With cyberspace threats evolving every day, many businesses are playing catch up as they try to protect their networks and systems.
Our proactive approach to cybersecurity consultancy services can help your business identify your most critical vulnerabilities while establishing protocols that help you quickly address and eliminate new threats. These services can help any business:
Save time and cut costs of developing new cybersecurity
Eliminate threats before they can hurt your bottom line
Enact a proactive approach that keeps up with the latest cybersecurity developments and threats across the globe.
The TCB Approach
TCB Inc. is an industry-leading cybersecurity advisor that combines extensive cloud expertise and innovative approaches to help clients develop scalable programs that improve their security posture and fuel continued data integrity.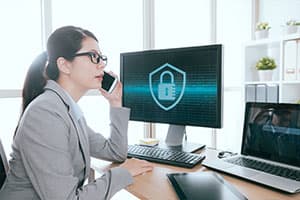 Evaluate your organization's current security and reliability status
Understand and prioritize the biggest risks,
Build a roadmap across people, processes, and technology
This process is guaranteed to deliver dramatic and rapid improvement in security maturity throughout any organization. Our approach is unique due to the fact that it takes into account your industry's unique needs while comparing it to the latest trends in cybersecurity as well as cyberattacks.
Get Cybersecurity Consulting Today
Security should be a main concern for any business in modern times, whether you have 20 clients or 200. This makes it imperative to do everything possible to prevent hacking, identity theft, and the loss of other sensitive materials to cybercriminals. With the help of an experienced cybersecurity consultant, you can rest easy knowing that you'll receive proper guidance and be able to implement the appropriate security measures to continually mitigate these common risks.
Our experienced and knowledgeable team will provide sound and neutral advice that is designed to properly secure your company from the ever-changing wave of cyber threats. To get started, give us a call at 703.204.2958 or request a consultation online today.