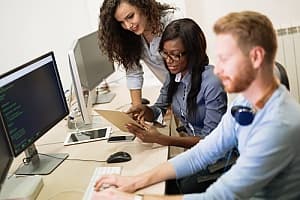 Do you delegate your IT administrator to handle your everyday computer issues and maintain your servers and network? If so, you're not alone. Many businesses attempt this strategy to keep costs down. However, you may have discovered – you might just be setting your company up for crucial IT downtime that will negatively impact your bottom line. In order to make sure this does not happen to your business, you can safeguard against this with dedicated IT help desk support.
What Is IT Help Desk Support?
IT Help Desk provides expert supplemental support and troubleshooting for your small or midsize business. It is essential for running a successful business with technological sophistication. At TCB, we guarantee unlimited IT Help Desk providing expert supplemental support and troubleshooting for your small or mid-size business or organization. As a standard part of every plan, our 24/7 Technical Support team is staffed with certified network and computer technicians ready to immediately assist your business.
At TCB, we provide support whenever you need it. Our support technicians are based in Virginia, Maryland, and DC, and are just a phone call, email, or chat away. You can count on us for on-demand support requests. We offer high-quality business IT Help Desk services every hour of every day.
Why Choose TCB For Your IT Help Desk Support Needs?
TCB's premier unlimited IT Help Desk support begins the second you place a support call or submit a support ticket. It's what our customers demand and what we deliver.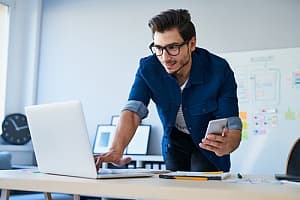 Nothing is more frustrating than to have to repeat the details of the support issue, or worse, to keep searching forums looking for an unique answer in frustration. TCB support techs carefully read your support ticket and ask only the questions needed to isolate and resolve the problem. Once your ticket is submitted successfully, a TCB Engineer will contact you to discuss your specific business IT needs, and start taking care of your business.
TCB IT Help Desk technicians will clearly explain the courses of action in order to troubleshoot and isolate the issue at hand. We won't waste your valuable time with complicated requests or speak in terms that are so complex only an IT technician would understand.
We provide friendly, professional IT support from pop-up computer questions and issues employees have on a daily basis to larger and complex enterprise IT issues. At TCB, we focus on your needs. We will take the time to carefully identify your company's specific requirements, and honor your unique business culture.
Reach Out To TCB For Your IT Help Desk Support Needs
Are you ready to leverage the safety of a dedicated IT Help Desk? Do you need unlimited help desk support without the hourly fees? Contact the experts at TCB and let us take care of your business. Contact us today at 703.204.2958 or request a consultation online.