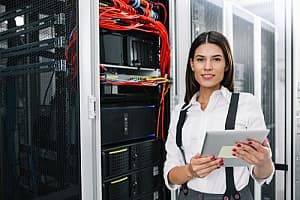 TCB has network installation and integration technicians based in Virginia, Maryland, and DC that are highly qualified in the installations, testing, and turn-up of various types of wireless and fiber network equipment. Our established network installation methods will have a local and/or wide area network up and running for you in no time. From communications infrastructures to your workstations, we can install and integrate any configuration you need.
At TCB our standards are speed, efficiency, and reliability, and that is what our technicians bring to every installation. Should you wish to have your new network professionally maintained long after installation, TCB can do that as well. Ensure stability with one of our IT support plans and Managed IT Services, so that the technicians who built your network can continue to maintain it.
Current Network Assessments
We'll begin by assessing your current network wiring and framework, checking to see whether it's suitable for your business's network usage and traffic. Once our network installation specialists familiarize themselves with your business they'll be ready to expand and optimize your network infrastructure.
New Network Installation
We'll assemble all the hardware and software required to build the foundation of your LAN or WAN, beginning with a server hardware platform from a top manufacturer (including Dell, Hewlett Packard, and IBM). After we've completed the basics of your newly installed network, we'll test its functionality and efficiency in order to guarantee smooth integration and premier performance.
Integration Of New Network
TCB's experienced technicians will suggest and install business applications that will provide your company with the means to progress in leaps and bounds. The applications we're referring to include:
Network file and remote printing services
User directory and authentication services
E-mail and collaboration software
Content management software
Web applications
Network security and anti-virus programs
Network fax
Accounting systems
Database applications
Remote access software
Network backup
Hardware & Workstation Evaluation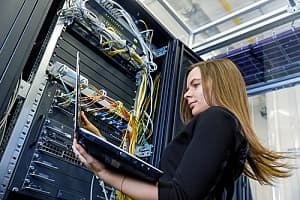 We'll evaluate your workstations and propose replacements or upgrades if necessary. To promote efficiency and security, TCB will modify your employees' workstations so that each computer includes all of your new business applications. Whether equipped with a PC or Mac, we'll ensure that all of your employees can fully support and utilize your improved network.
Speak To An Experienced Managed IT Service Provider
To keep your network in optimum condition, we offer training and ongoing technical support from the same experts who've worked with you through the entire process. Our Managed IT Services can stay with you and your system right from network installation to constant monitoring. You're only a few clicks away from getting the best technology services available anywhere. Call us today at 703.204.2958 or request a consultation online to ensure your business is equipped with the best and most trusted service!