Helping cloud service providers address FedRAMP requirements. Our team of experts can help your organization to sort out vulnerabilities and ensure that you get the guidance and insights necessary to achieve FedRAMP compliance. If you work with federal contractors and utilize cloud services, then these standardized data security principles are essential for establishing a secure and modern framework.
FedRAMP Compliance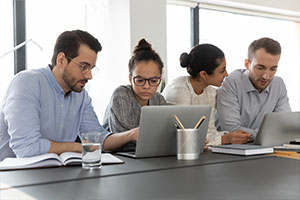 Cloud service providers (CSPs) often struggle to properly scope vulnerability scanning requirements for FedRAMP authorization. Our FedRAMP Vulnerability Scanning helps businesses answer questions that include:
Which IT components should be included in FedRAMP vulnerability scans?
What are the requirements and best practices for addressing the results of the scan?
How does vulnerability scanning fit into the 3PAO assessment?
Our specialists are trained to provide CSP's with critical information that can help your team effectively perform scans and manage the vulnerabilities that are discovered. We specialize in helping to maximize security and adherence to the latest standardized cloud computing requirements.
FISMA Compliance
Achieving FISMA compliance increases an agencies' data security, protects citizens' private data, and reduces IT-related costs to the federal government. For this reason, understanding the FISMA compliance principles is crucial. Some of the main requirements we can help you perfect include:
Information System Inventory
Risk Categorizations
System Security Plan
Security Controls
Risk Assessments
Certification
FedRAMP Preparation
Our FedRAMP services have extensive experience helping CSPs address their vulnerabilities and create a more secure infrastructure as they prepare for FedRAMP assessments. Vulnerability scanning is a crucial service that can help to more seamlessly achieve FedRAMP certified vendor authorization.
Before the Joint Authorization Board (JAB) or authorizing agency accepts the residual risk of a system and grants an ATO, you must provide documentation utilizing FedRAMP templates that comprehensively details the system, controls, and authorization boundaries. To help you prepare to pursue an ATO, we have developed services designed to match the FedRAMP process.
These FedRAMP services include:
Readiness Assessment
We will conduct a technical capability assessment to ensure you meet the minimum requirements to achieve a FedRAMP ATO. This will pinpoint areas of improvement and vulnerabilities that need to be addressed.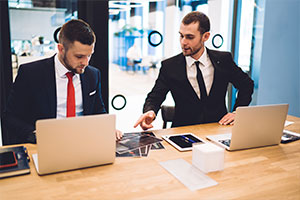 Advisory Consulting
We advise on system architecture and documentation of the environment and security control implementations. We can also produce a system security plan (SSP), policies and procedures, and other necessary system documentation.
FedRAMP Assessment
This full technical assessment ensures your compliance with NIST SP 800-53 Revision 4 and FedRAMP controls. We serve as the independent 3PAO to develop the required FedRAMP documentation, including a security assessment plan (SAP), security requirements traceability matrix (SRTM) to document assessment results, and security assessment report (SAR).
Continuous Monitoring
Once the FedRAMP ATO is secured, our team will perform ongoing (monthly, quarterly, and annual) risk monitoring required to maintain the system improvements.
Reach Out To TCB Today
A TCB Risk Assessment is a great place to start your FISMA compliance journey. Our experts will highlight any risks to your sensitive data, monitor your data (one of the FISMA requirements) for potential cyberattacks, and help you create a realistic plan of action to achieve these requirements. Call 703.204.2958 or request a consultation online to get started with our FedRAMP services today.