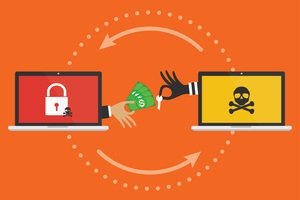 Ransomware is a type of malware (malicious software such as worms and viruses) that uses encryption to retain access to a victim's files, applications, or databases. Then, similarly to kidnapping, the cyber attacker demands a ransom before allowing the organization or user to regain access to the information.
According to cybersecurity company PurpleSec, ransomware attacks in the United States increased by 41% in 2019, when 205,000 organizations lost access to their information. Ransomware can also cost companies thousands of dollars or more.
Therefore, it's critical to understand how this type of attack works, how to remove it, and how to prevent it from happening again so that cybercriminals don't reap huge profits. (In the opening quarter of 2018 alone, ransomware software SamSam earned $1 million.)
How Does Ransomware Work?
Ransomware can access an individual or organization's files in several different ways, including:
Once a ransomware attack is complete, the victim's information can't be decrypted unless a special key the attacker holds is used. Cybercriminals may demand payment in the form of Bitcoin or other cryptocurrencies.
Common Targets Of Ransomware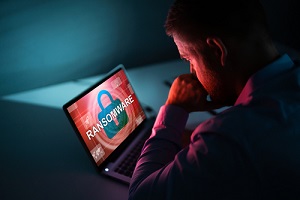 Examples of frequent targets of ransomware attacks include:
Universities
Government agencies
Medical organizations
Law firms
Many of these organizations often handle large amounts of sensitive information, have large budgets, and quickly pay ransoms. Additionally, some of these organizations (such as universities) often have small security teams and sometimes prefer not to reveal news regarding cyberattacks publicly.
How To Stop & Remove Ransomware
To avoid ransomware infection, there are many defensive measures you can take, including:
Backing up your data: Regularly and automatically back up your files by using either an external hard drive or the cloud. Backups can't guarantee ransomware won't ever occur, although they can significantly reduce the risk.
Installing antivirus software: This type of software, which should always be updated, is designed to detect ransomware. It's also a good idea to install whitelisting software, which stops unauthorized applications.
Not installing software or granting administrative access: Don't do this unless you're certain what a software program is and how it works.
Keeping your operating system up-to-date and patched: If your OS isn't kept up-to-date, cyberattackers can easily use ransomware to exploit your vulnerabilities.
Other precautions you can take include practicing safe surfing, using only secure networks, remaining informed about ransomware news, and introducing cybersecurity awareness initiatives so that all of your organization's employees understand this type of threat and how to respond to it.
To remove ransomware from your computer, you can follow these steps:
Reboot your OS to safe mode
Install antivirus software
Scan your system to identify the ransomware
Restore your computer to its former state
Keep in mind that you will still have to decrypt your files after taking all these steps.
Protect Yourself From Ransomware With TCB
Reach out to the professionals at TCB 24/7 Expert Network IT Support in Alexandria, Virginia, for more information about ransomware and how we can prevent it and remove it from your computer system.
We are an innovative IT company dedicated to providing many different types of businesses (startups, SMEs, large enterprises, etc.) with solutions that are tailored to meet their unique needs.
To combat ransomware and other types of malware, our team will provide efficient data backup (including fully automated remote backups) and disaster recovery services. At TCB, we understand how costly cyberattacks can be for businesses.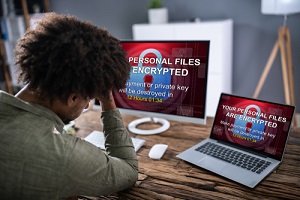 Therefore, we will work tirelessly to ensure your organization is protected against these threats, especially if it regularly handles sensitive information. Our data backups are compressed and encrypted to maximize space.
We also provide spam filtering services, which can help your organization combat ransomware, email scams such as spear-phishing, and other fraudulent cyber attacks and security risks. We can use spam filtering for both emails entering and leaving a network.
Call TCB today at (703) 783-2781 or contact us online today to request a consultation or to learn more about our managed IT services.