TCB Inc's Cybersecurity Maturity Model Certification (CMMC) preparedness assessment leverages high-level expertise to examine any organizations' maturity in accordance with its desired CMMC level. We specialize in delivering actionable steps that will lead to an infrastructure that satisfies DoD requirements.
Our team has conducted a variety of assessments for clients based on NIST 800-171, NIST 800-53, ISO 27002, and many others. Our team consists of knowledgeable experts with backgrounds in a variety of industries that can assess compliance and assist organizations with determining what is reasonable for their unique size and sector.
Our services are designed to help provide reinforcement to the Department of Defense (DOD) that the contractors we assist have performed the necessary due diligence in order to establish a rigorous and thoughtful cybersecurity infrastructure. We ensure that clients are able to protect controlled unclassified information (CUI) at a level commensurate with the size, type, and sensitivity of the contracts it bids on.
Why You Should Get A CMMC Assessment
There are tens of thousands of contractors who house sensitive information within their databases, and cyber criminals know this. This makes it imperative to take the proper steps to ensure your company has a mature and powerful cybersecurity protocol.
While there is no current guidance on what official certifying organizations will use for CMMC assessments, it is universally accepted that the criteria should be based on the National Institute of Standards and Technology (NIST) requirements, a well-established government controls framework.TCB has conducted many assessments while helping thee organizations to pinpoint their shortcomings and maximize the effectiveness and security of their data protection procedures. We help our clients to:
Determine the areas of weakness
Assess current state of compliance
Develop required level of future compliance
Prepare and deploy a targeted plan of action.
Benefits Of CMMC Assessment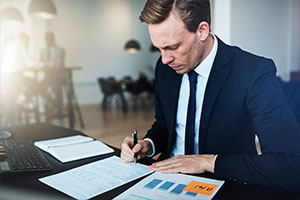 Getting started with CMMC might seem like a daunting task, and the reality is that certification is simply too large of a program to be handled by one person or perhaps even one team within an organization. Nevertheless, certification will be a non-negotiable requirement of DoD contractors going forward, and TCB Inc can help federal contractors get started right away.
Our team can help any organization to prepare for CMMC by helping organizations to:
Gain a deep understanding of the CMMC framework
Complete an assessment to determine the in-scope organizational and systems environment and evaluate your current state against CMMC requirements.
Receive high-level assistance from industry professionals
Get Started With TCB Inc Today
It can take time, resources, and investment to fully understand and implement good cybersecurity practices and become CMMC certification-ready. So don't wait — contact TCB Inc. by phone at 703.204.2958 or request a consultation online to get started with our CMMC assessment and readiness services today.