Do not put your company in danger – make sure you have operative data backups and a disaster retrieval plan in place. Companies in Herndon, VA should seek IT consulting services, and protect their business.
Disaster Recovery and IT Consulting in Herndon, VA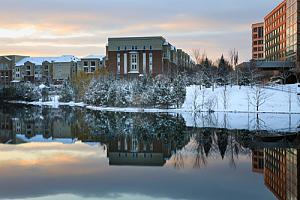 Imagine this scenario: you have just spent several weeks working on a big demonstration for a client. The day before your conference, your computer crashes and you lose the presentation. You will spend valuable time – not to mention frustration – in re-creating the presentation, and you might even lose the account if it is not presented as planned.
To prevent this, you must ensure your organization has a robust computer backup system. TCB Inc. provides dependable data backup services in Herndon, VA to custom-fit your company's needs. Our services include full employment and maintenance for disaster recovery, as well as IT consulting services to prevent data breaches from occurring.
Consulting You On Data Backup Methods
Computer data backup systems are no longer a choice; these services are simply a necessity if your organization wants to restore its data following a crash. In order to thrive in today's data-driven business world, your organization will need a data backup and disaster recovery plan. Fortunately, TCB Inc is here to guarantee you are never without your most essential data in the event of a crash. Our professional IT consultants will work to assure you have the best possible backup method in place.
---
Which Data Backup Solution Is Right for Your Business?
We understand that every business is unique and faces different risks with data. We perform a managed security evaluation through our Herndon, VA IT consulting services to understand your needs and recommend the data backup system that will work the best for your organization.
TCB Inc. has multiple data backup choices available and will work with you to carefully determine which data backup plan will be right for you. Our basic data backup types for Herndon, VA businesses include the following:
Full Backup
This option backs up every selected file onto one system.
Incremental Backup
This disaster recovery method includes only the files that were altered since the most recent backup.
Daily Backup
A daily, incremental backup is done every day on files that have altered to ensure you have the most recent version of your storage.
Differential Backup
This option performs cumulative backups of all changes made since the last full backup.
Copy Backup
A copy backup makes copies of the selected files. It is a simplistic method that allows easy access to the copied data.
---
Benefits of Working With TCB Inc. For Data Backup Services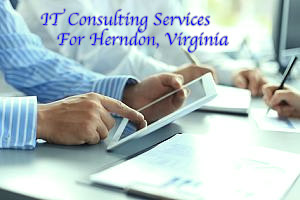 Our professional IT consultants are committed to assisting organizations with proper backup plans that will help them grow and scale in today's market. By working with us, you are creating a safety net that will prevent not only the loss of your data but also a potential loss in profit as a result. Here are the benefits of acquiring our Herndon, VA IT consulting services for data backup and disaster recovery:
Industry Compliance
Secure data protection allows organizations that are in highly controlled fields – legal, financial, healthcare, and others – to meet and surpass their compliance necessities.
24/7/365 Monitoring
24/7/365 management and intensive care of logs to confirm backup accomplishment and data restorability.
Cost-Effective
The reasonable rates that we charge include full management and support, as well as the refurbishment of data at no additional charge in the event of a disaster.
Rapid Data Recovery
Local backup allows for the fast restoration of all data – from block level to individual files – quickly, easily, and affordably.
---
Flexible IT Support Services For Herndon, VA Businesses
Data backups in Herndon, VA can be stored in a number of ways – or a combination of those ways – and can even be performed remotely, should you choose. The data backup services you receive are specific to the exact needs of your organization – it is all about what works best for you and your business. Your organization can select how your data should be stored as well as what should be placed in the backup. At TCB Inc, we will ensure your organization gets exactly what it needs with Herndon, VA disaster recovery services.
---
Our Managed IT Services For Herndon, VA
Running your business should be the only focus on your mind, not IT related issues. At TCB, we offer managed IT services, and we provide Herndon, VA businesses the worry free mindset that companies strive to achieve. When IT related issues are handled by our professional team, you are able to solely focus on your business. Leave the IT issues to the experts, and work on expanding your business with our premier IT services.
Data Backup & Disaster Recovery
In the event of a data breach, you want your company to be protected. Losing data can cause a major headache for your business, as well as bring along costly liabilities. Thankfully, TCB offers data break and disaster recovery services to Herndon, VA. This service will aid companies in the event of a breach or hack, and recover valuable data afterwards. Don't leave your company vulnerable to risk, seek protection today.
Website Hosting
In the increasingly competitive digital world, it's important to have a site that appeals to your target audience. Proper functionality of that site is a key factor in reaching your consumers. At TCB, we offer website hosting services that go above and beyond the competition. Our services increase the speed of your website, and maintain almost 100% of uptime. We work for the success of you and your business, and never come up second best.
IT Assessments
As businesses continue to grow, they upgrade their tools and services. The IT infrastructure should never be forgotten, and should receive regular updates just like other business tools. Through proper IT assessments, companies can identify any potential risks or threats and deal with them accordingly. The Herndon, VA assessments performed by TCB are designed to identify these risks and any room for improvement the infrastructure may have. At TCB, we want your software to be secure and strong. Start your IT assessment process today.
IT Help Desk
Having an IT problem that you don't know the answer to can severely halt your business. When you have access to industry experts, those problems all seem to wash away. TCB offers a professional IT help desk that is made up of industry experts with years of experience. Gone are the days of irritating IT issues, pass them along to our team for an easy fix!
IT Security
As your business grows, the potential risks grow along with it. Cyber attacks and data breaches become more common, so the need to protect your company grows. When companies seek out the IT security services from TCB, they allow themselves to focus solely on business growth. TCB will work to protect your business against harmful cyber attacks and breaches, ensuring the safety of your company.
Network Installation & Integration
When businesses are growing at a fast rate, network installation and integration can be a nuisance. Without knowing the proper installation method, it can cause problems for the network in the future. When you seek out professional network installation and integration from TCB in the Herndon, VA area, you ensure the success of your network.
Spam Filtering
As technology continues to strive forward, hackers and malware attacks increase as well. Their phishing and data attacks are becoming harder to identify, and even more fatal to businesses. TCB offers spam filtering services to the Herndon, VA area to help prevent businesses from a malicious virus or cyber attack. Protect the cyber integrity of your business, seek spam filtering today.
---
Choose TCB Inc. For Your IT Consulting and Support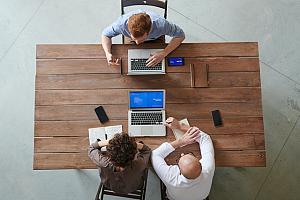 We offer businesses a complete suite of IT support options, including computer data backup services. As a TCB Inc client, you will have access to our IT specialists 24/7/365. And with our exclusive flat fee pricing, all this comes at a cost much lesser than hiring in-house IT employees or paying a one-time huge fee when your system crashes and you have no existing disaster recovery system in place.
Having a data backup plan in place has never been more important than it is today in the digital world. Your business cannot afford to suffer huge data losses should a crash occur. And as we all know, crashes do happen. Keep your business from losing productivity, time, and resources when the system fails. Get easy access to all your files with disaster recovery in the event the inevitable occurs. Work with TCB Inc – we have over 25+ years of experience and will serve you at the highest of our ability as we do for all of our clients.
To get started with Herndon, VA IT consulting, or to protect your organization through data backup services, contact TCB Inc by phone at 703.204.2958 or request a consultation online today.