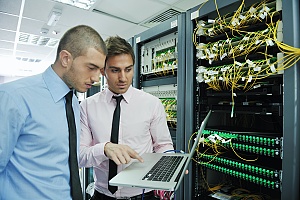 We understand the importance of getting your technology to work for you, not against you. We have been serving businesses in Annandale, VA to get their IT needs to be aligned with their goals for closely two decades with our IT consulting services. By working with us, you will position your company ahead of its competition by adopting new strategies and technologies.
IT Consulting Services in Annandale, VA
When your business decides to change its IT infrastructure to meet its short and long-term goals, you need to depend on a specialized, reliable, and well-informed company for assistance. Our Annandale, VA IT consulting services will help your organization reach its goals while ensuring your IT infrastructure is working to your benefit.
Refining Your IT Infrastructure
Through our IT consulting services, our team of experts will work with you to determine how your IT infrastructure needs to transform to help maximize profitability. When you are plagued with daily computer issues, output suffers – let TCB Inc. minimize risks and improve overall efficiency.
Moving to the Cloud
Is your company still using a physical network server? Maybe it is time to shift to the cloud. A cloud-based network system is inexpensive and provides your business with more safety, storage, and applications. Through our Annandale, VA IT consulting services, we help make your migration to the cloud easier than before.
Going from having a physical server to a virtual one can be a big change. Maybe you are unsure about moving to the cloud. We will help you decide what's great for your business based on your size, goals, and vision while making sure no data is lost in the process.
---
Professional IT Consultants in Annandale VA
We will help you figure out all this and more with TCB Inc's IT consulting services in Annandale, VA. We know it is not easy to constantly make IT choices – however, with our experience, combined with our passion, you will be able to make knowledgeable choices with us about what is really best for your company.
Cut Costs
If you are paying way too much for IT support, it is time to stop. TCB Inc. offers a wide variety of services for a flat fee every month. Stop paying so much for extra support—with TCB Inc., you will never have to guess our fees as everything is included in our flat monthly fee. Learn how affordable IT solutions can be with our IT consulting services.
Flat Fees
When you are ready to stop losing efficiency time, getting hit with big IT bills, and being unfulfilled daily, let us work with you through Annandale, VA IT consulting. We have so much to give for a flat monthly fee – try us out today!
---
Technology Services For Annandale, VA Area Businesses
Ready to take your organization to the next level? Do not let IT problems hold you back. In today's digital world, repetitively dealing with IT topics can be tremendously hindering to a business. Get your efficiency back and get ready to take things to the next level with IT consulting in Annandale, VA.
When your business can focus on what you do best and stop spending so much time dealing with IT issues, you will be surprised as to how easily your workplace runs. TCB Inc. works with you and your team through IT consulting to lessen interruptions, determine your perfect network infrastructure, and surge productivity.
Consulting You Can Rest On
For those times when things do not go based to plan, TCB Inc. has your back. Our team of specialists is devoted to providing the best client satisfaction and getting your IT issues determined quickly, sometimes before they even happen. Find out how we can help you grow your business with Annandale, VA IT consulting!
Why Join TCB Inc. for Your IT Support Services?
With TCB Inc., you are choosing a company with a wide amount of experience and knowledge to provide you with superior IT support services. We offer 24-hour IT facility and support, flat fees, and a flexible support package to meet the needs of any business, large or small.
We have been providing services in Annandale and to businesses across the world for well over twenty-five years. Our IT administrators and staff are highly qualified and are experts in their field. Along with our leading infrastructure, vast resources, and partnerships with suppliers, our clients have experienced that partnering with TCB Inc. will optimize their performance and productivity, never leaving them behind in this ever-changing world of technology.
To get started with IT consulting services in Annandale, VA, reach out to the IT professionals at TCB Inc. by phone at 703.783.2781 or request a consultation online today.