Does your current managed IT services provider give you the tailor-made attention your business needs and deserves? Taking the time to understand our customers is what we do best at TCB Inc. After all, how can a company bring the best managed IT services to Chantilly, VA without understanding your particular IT needs? At TCB Inc., we value our client's differences. We know that each business is exclusive in its trials, risks, needs, and chances, so we work with you to conquer your trials, manage your risks, meet your wants, and nurture your opportunities with our Chantilly, VA managed IT services.
What Sets Our Chantilly, VA Managed IT Services Apart
We fully support your business by assessing your IT infrastructure, coming up with a custom-made plan to support, preserve, and protect it, and then working with you to achieve the plan. We back up your data as often as you'd like us to and we offer remote hosted services in addition to on-site support. If you'd like us to train your staff to be a little more IT savvy and receptive, we can assist with that too.
TCB Inc. has been serving the Chantilly, VA area for more than fifteen years, and our team has years of experience in industry-leading technologies. Our managed IT services in Chantilly, VA are here to help your business improve and be more fruitful by helping you accomplish your goals with the help of IT proficiency. Your goals are our goals — so let us help you be successful with our IT support.
Flexible Technology Management Options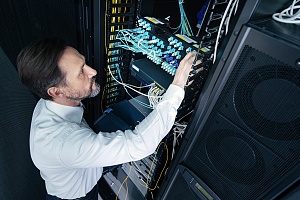 Part of having the best managed IT services in Chantilly, VA is creating and nourishing a supportive and cohesive IT infrastructure that allows your business to function optimally with no interruptions. Our services also allow your business to operate with peace of mind knowing your data is secure.
Backing up data is part of what keeps your business secure, but your network security also needs to be fully supportive of your business in order to avoid security breaches, as well as threats from viruses and malware. While updating is important, having a Unified Threat Management (UTM) system can also help your business be as secure as possible.
Cost-Efficient Services
Think you can't afford the best managed IT services in Chantilly, VA? Think again. We offer our wide variety of services all for a flat fee every month. We know how tiresome it can be when your IT equipment doesn't work as planned — let us lessen that hindrance and be hands-on about solutions.
With IT entwined with the business world as much as it is now, you need to have your safety measures updated, your hardware running easily, and your software and network fully efficient. Without a proper IT structure, your business will fall behind in today's digital world.
Virtual Help Desk
A virtual help desk can substitute the need for a costly in-house team or complement your current in-house IT team for matters that are multifaceted and unavoidable. We know you'd rather like your staff to keep concentrating on what matters most – growing your essential business. We can help you achieve that with our managed IT services in Chantilly, VA.
Customer Oriented
Our customer-oriented, friendly, and skilled IT services are available to you 24/7. Whether you've got hardware, software, or network glitches, TCB Inc. is here to help.
Our team works tirelessly around the clock to provide solutions to your problems and address them directly. Our managed IT services in Chantilly, VA are here to support you when you need it.
The Best Partnerships
Our partnerships are part of what makes our team at TCB Inc. so boundless. We partner with some of the best technology leaders in the industry in order to provide you with the best managed IT services in Chantilly, VA with the best knowledge, and price on equipment to better assist your needs. We're partnered with Microsoft, Apple, Dell, and other companies to give you more than just an IT company that knows about IT.
We're a managed IT services provider that has profound insight into the industry and we're able to bring unmatched knowledge and experience to your team. Whether you need us to function as your IT department or to enhance your existing IT department, our partnerships and IT professionals are here to serve you with our managed IT services.
Our Managed IT Services For Chantilly, Virginia
At TCB Inc, we understand that IT can cause a number of issues and disruptions. That is why we offer managed IT services to ensure your systems are always working with you, not against you. Our team will provide your Chantilly business with peace of mind knowing even its most complex IT issues are being resolved and actively monitored. Here are the primary managed IT services that we offer to organizations in the area:
Data Backup & Disaster Recovery
Data loss can bring much more than just headaches for victims — it can also lead to lawsuits filed by clients whose personal or otherwise sensitive data has been compromised.
By acquiring data backup & disaster recovery services through TCB Inc, your organization will never have to worry about recovering data in the event of a cyber attack, data breach, building fire or other incident that results in loss or theft of data.
View Data Backup & Disaster Recovery Services
Hosting
In the digital age, consumers have become so used to instant gratification to where they will be quick to search for a competitor's product if they cannot immediately receive one from their desired brand. This holds true for websites, as most users will only wait a few seconds for a website to load before they navigate to a different site to find the services they require.
Fortunately, TCB Inc has several years of experience providing organizations with reliable hosting services to provide a significant speed boost and maintain an almost 100% website uptime.
IT Assessments
When companies upgrade their software and hardware, many IT security risks have the potential to arise without knowledge. TCB Inc provides IT assessments for organizations in Chantilly, VA to help them receive complete visibility over their IT infrastructure and identify security risks before they become serious.
Through a series of comprehensive IT assessments, our team of IT professionals will work with your business to administer changes within the IT infrastructure, ensuring it is strong and secure at all times.
IT Help Desk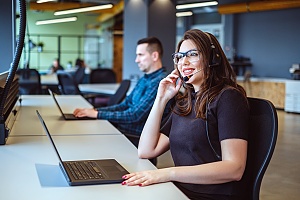 If your organization runs into IT-related problems during the workday, it may cause your workflow to slow down or halt to a stop, or worse — your employees could be wasting time attempting to fix problems they cannot solve on their own.
To ensure these issues will no longer be a concern, let TCB Inc provide professional IT help desk services for your organization. Our team of experts are available 24/7/365 and are always a phone call, email or chat away from assisting you remotely or onsite.
IT Security
Unfortunately, organizations in today's world now have to worry about the possibility of a data breach on top of data being lost in other ways. However, by acquiring IT security services through TCB Inc, your company's systems and software will be better protected to prevent cyber attacks and data breaches from occurring in the first place.
Our IT security specialists will ensure that new risks and vulnerabilities within your organization are identified and taken care of, and will devote all of our attention to mitigating a cyber attack or data breach if one were to occur.
Network Installation & Integration
Installing a network and integrating it with your systems and software can be difficult, especially without the assistance of an IT professional. If not installed correctly, the functionality and stability of your network can cause severe IT-related problems.
Our Chantilly, VA network installation and integration services guarantee that your organization's network will run as smooth as possible (with expansion in mind), allowing you to rest easy knowing your network is set up properly and free of complications.
View Network Installation & Integration Services
Spam Filtering
With spear-phishing and ransomware attacks being a very real possibility in today's world, it is important for organizations in Chantilly to protect themselves from financial loss.
TCB Inc offers spam filtering services to prevent malicious emails from reaching your employees and ensure that emails under your name are only coming from you and no outside sources. Therefore, you can be assured that spam emails are stopped in their tracks before ever reaching your network.
Speak To An Experienced Chantilly Managed IT Services Provider
With TCB Inc., you're choosing a company with an extensive amount of knowledge and know-how to provide you with quality IT support services in Chantilly, VA. We offer 24-hour IT service and support, flat fees and flexible support set to meet the needs of any business, large or small.
Our team at TCB Inc. is here to get you the best services at an affordable price, all with the highest customer gratification and increased efficiency. Contact a TCB Sales Engineer today and let us take care of your company's unique needs. Give us a call at 703.204.2958 or request a consultation online.